Here are a few Melanie Paxson links. There are fan sites, informational sites, and yahoo groups.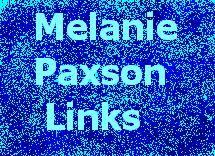 ~*Search Engines*~
AltaVista The Internet's original search engine.
Lycos One of the most visited search engenes on the Internet reaching one out of every two web users.
Yahoo! With over half a million sites divided into more than 25,000 categories, Yahoo! is both browseable and searchable.
InfoSeek GO Network is a new brand that brings together the very best of the Internet.
~*Melanie Web Sites and Groups*~
~*IMDB*~
Melanie Deanne Moore(Paxson)
~*Glad Girl Galore*~
A fan page of Melanie for the Glad commercials
~*IMDB*~
Behind the Camera: The Unauthorized Story of Three's Company
~*Happy Family*~
Here's NBC's Happy Family web site
~*Happy Family Fan Group*~
To join this group you will have to be a yahoo member
~*Sitcom Online Messageboards*~
Happy Family Messageboard
~*TV Tome*~
Happy Family Site
~*Tv Tome*~
Melanie Deanne Moore(Paxson)
~*MSN*~
Melanie Paxson
Don't see your site? E-mail it to me and i'll add it for you